Bobbie Grennier
Bobbie Grennier does Google Search Marketing, My Business/Places Optimization, Google+ Local SEO. Google Local Pro offers Advanced My Business Consulting and Santa Cruz Web Designer, Local SEO, Internet Marketing.
It was really a cool geek moment for me to open up my Gmail and find that David Amerland, the author of Sematic Search, had posted to my G+ profile. I had posted in response to his article "Semantic Connections in Google Plus and your SEO" because I really feel that Google has become an emotional search engine of sorts.
If you're totally and correctly hooked-up into the world of Google services and apps, then you're going to get the full Google love when it comes to knowing exactly who you are and what you want in your online searches. Part of that scares me, and part of it excites me.
David however, lives on the cutting edge of Google's future search capabilities, and it was an honor to receive a positive stroke back from him.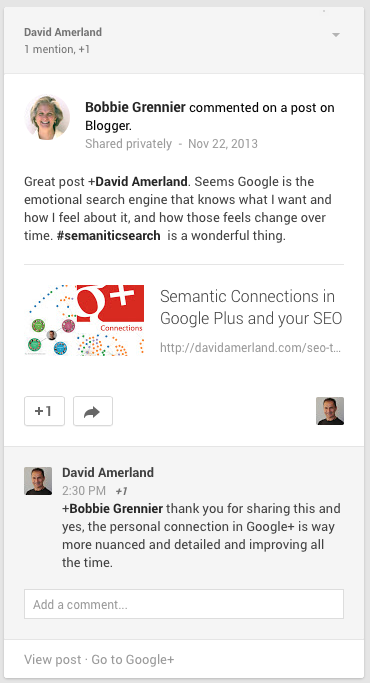 Sematic Search David Amerland and Me
Sematic Search David Amerland

,
Install this web app on your Android: Tap menu, more options, and then Add Shortcut To Homescreen.
×
The following two tabs change content below.
Bobbie Grennier Google+ Local PRO Reputation Marketing for Google My Business/Places: In need of a Google Places Optimization, Google+ Local SEO Professional? Google Local Pro offers Advanced Places Consulting. Bringing you better SEO Ranking and Placement for your local page and search engine listing. https://www.facebook.com/GoogleLocalPro
Latest posts by Bobbie Grennier (see all)
Google+ Comments